Rt Hon Nicky Morgan MP
Advisory Board 2016-2019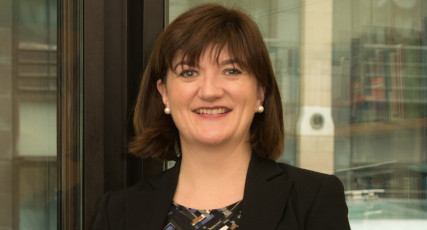 Nicky Morgan, stood as the Conservative Candidate for Loughborough at the 2005 General Election and again in 2010, when she was first elected to Parliament to be Loughborough's voice in Westminster.
Nicky studied law at Oxford University. She worked as a solicitor specialising in Corporate Law advising a range of private and public companies from 1994 till her election in 2010.
Nicky previously served as Chair of the Treasury Select Committee (2017 – 2019); Secretary of State for Education and Minister for Women and Equalities (2014 – 16); Financial Secretary to the Treasury (2014); Minister for Women (2014); Economic Secretary to the Treasury (2013 – 14); an Assistant Government Whip (2012 – 13); and the Parliamentary Private Secretary (PPS) to the Rt Hon. David Willetts MP, Cabinet Minister for Universities and Science (2010 – 12).
Nicky was re-elected as the Member of Parliament for Loughborough in the 2015 and 2017 General Elections and, in July 2019, she was appointed Secretary of State for Digital, Culture, Media and Sport.
She is the author of 'Taught not Caught: Educating for Character in the 21st Century'.