June 6, 2018
Posted by:

Finito Team

Category:

Uncategorized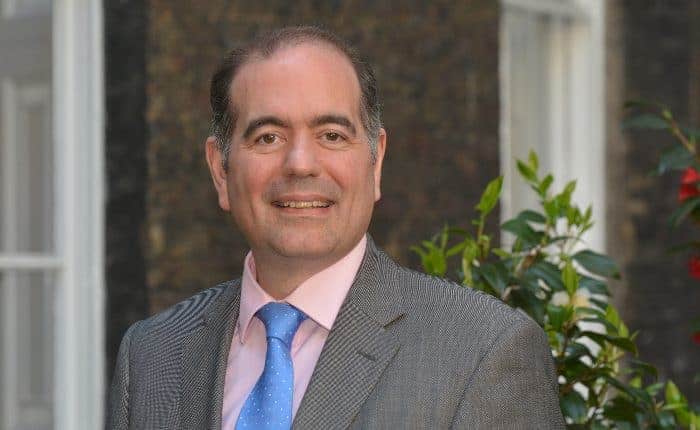 Originally published by The Telegraph. By Tim Cumming.
The man behind Finito speaks about his dedication to help young people (and those of every age looking to make a career change) get work-ready
For those starting out in the workplace, getting the right job is no easy business, especially in the new world of employment with its algorithm-based selection processes and AI interviews. But for struggling school and college leavers – and their parents – help is at hand in the form of bespoke concierge careers service Finito.
Company founder Ronel Lehmann is an expert hand at steering young people from school, college and university into fulfilling employment. He set up the company in 2016, after a long career in marketing and recruitment, and having often found himself being approached by worried parents of overly relaxed offspring. "People would call me and say, 'Can you help my son or daughter? They're looking for a job, they need a career and I don't what we're going to do with them. I'm tearing my hair out.' And I realised that the thing I enjoyed most was business mentoring and helping young people to get work-ready."
Lehmann had a look around to see what was out there. "And there really wasn't anything," he says. "Apart from the odd school that taught etiquette." Seeing an open door, he pushed through it, wrote a two-page business plan, approached Addison Lee founder John Griffin (now Finito's non-executive chairman) and 90 days later was up and running. Finito now boasts an advisory board that includes former education minister Nicky Morgan, educationalists Sir Anthony Seldon and Dame Mary Richardson, as well as 14 mentors who have solid business experience, who know what employers want and how to prepare candidates to match those requirements.Finito now boasts an advisory board that includes former education minister Nicky Morgan and educationalists Sir Anthony Seldon and Dame Mary Richardson
Finito remains the only service of its kind in the UK, equipping every young person who comes to it with the life skills and mental focus required to secure the job they desire. And if they are not sure what they want to do, Finito's experts will roll up their sleeves and help them find a profession that flexes their skills and drives their ambition.
Lehmann tells me of one client, a 19-year-old, who was good at maths and wanted to be a city trader, but didn't have any experience of stockbroking, or what goes on in a dealing room, a trading room or at a foreign exchange. Finito arranged for him to do a day-long shadow placement to show him what it would really feel like and look like. "It's not easy getting someone in to see a trading desk," says Lehmann. "There's confidentiality, there's clients, data, all of these things that are so important. But that's what we do. We help young people get that access so they can discover what the job is about before they start going down the route."
So what kind of candidates does Finito find itself helping? Clients range widely, with some focused on entering highly competitive areas, such as the arts or management consultancy, both of which, says Lehmann, have "a deluge of candidates". Others need assertiveness training, or guidance towards finding out what they want to do in work and securing that crucial first job.
And then there are the ones who must be weaned from unrealistic expectations and bad habits. "We had a mother calling in tears over her daughter," says Lehmann, "who had come back from university and she was sitting on the settee with her feet up saying, 'Mummy I am going to text my way into a job.'" It's Finito's role to get those feet firmly on the ground and turned towards achieving realisable goals.
There's specific training in areas such as interview technique and handling hostile questions, as well as what to say when an interviewer rolls out the traditional 'Do you have any questions for us?' "One candidate came up with the most brilliant line," says Lehmann, "which was: 'Do you see me in this role?'"
However, to get that far, you need to stand out from the crowd, and that begins with your CV. Here, again, Finito's expertise can be a game-changer. One example is a young woman who wanted to be a restaurant PR. Finito mocked up her CV to resemble L'Escargot's menu, and she sent it to the top five restaurant PR firms and within a minute one of them had replied, requesting a meeting, even though there wasn't a vacancy at that time.Finito's latest service also provides mentoring for people in midlife who want to change career
But even then Finito's job wasn't over. "Two days later, she still hadn't rung the agency. I said, 'Why not?' and she said, 'They haven't got a vacancy.' And I said: 'Don't you realise they're just managing your expectations? The person they hired might not be as good as you are, and you've been invited in.' This is what we find time and time again with young people. They come out of education, they've got their degree, but they have such knowledge gaps when it comes to employment."
As well as working with candidates one-on-one, Finito also partners with universities, colleges and schools, working with groups of up to six students to instil the skills that will guide them into working life. And it's a serious commitment from Finito's side. "We don't let go of them until they've got a job," says Lehmann.
Though their services do not come cheap – you're looking at £7,350 plus VAT – there is a bursary scheme to help graduates unblessed by high-net-worth parentage, and the average length of engagement is three months, though that can be extended. "We stay the course with them," says Lehmann. "We help them get to where they want to be. We'll rewrite their CV, teach them how to write a cover letter, work on their LinkedIn [profile], make sure employers can see them, make sure that they are looking out for the right opportunities. And when they've made a shortlist of who they want to work with, we'll get them a shadow placement or get them in to see someone."
While its focus is fixed on the school, college and university leaver, Finito's latest service also provides mentoring for people in midlife who want to change career. "We've helped a number of people at senior level," says Lehmann, "using the same skills, and the same methodology of approach. And we have had some real successes."Writing your prospective employer a handwritten letter sounds quaintly Dickensian these days
If Lehmann was to pinpoint one major difference between job-hunting when he was entering the workplace and the challenges young people face today, it would be AI. He recalls handwriting analysis as the preferred sifting and selecting tool of the 1980s – but writing your prospective employer a handwritten letter sounds quaintly Dickensian these days. What has taken its place is AI interrogation, courtesy of new software such as HireVue.
"Some universities are buying a sample package that students can practise on, but it is quite expensive," says Lehmann. Finito coaches its clients through mock-up HireVue sessions. "Our course director will be able to watch the candidate and ask questions, and see whether their eyes roll or if they look at the screen, whether they work diligently and respond quickly. He gives them tips on how to do it. Practice does make it easier, and makes a big difference to your confidence."
In the end, Finito is there to help newcomers to an increasingly competitive and rapidly changing job market to stand out from the crowd, and to find their vocation. "What's nice is that we are putting something back," says Lehmann. "There isn't a day here that is the same. Everyone is slightly different, everyone needs help, encouragement and confidence, and all of us are really committed to it and enjoying it."